31 August 2018
What to expect at Labelexpo India 2018!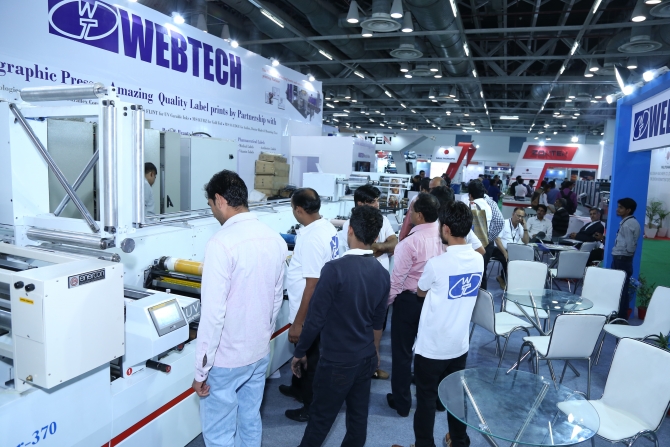 Click on image to download high resolution version
Labelexpo India is the largest event for the label and package printing industry in South Asia. From 22 to 25 November this year, printers and converters from different countries will converge in Greater Noida, India to see technologies that will drive the label market forward and open up great opportunities and growth potentials. I spoke to Lisa Milburn, managing director of Labelexpo Global Series, about the show and her thoughts on the industry. Here's an excerpt from the interview:
Mahan Hazarika (MH): How many people typically attend Labelexpo India? What is your expectation this year?
Lisa Milburn (LM): In 2016 it was about 8,000 people and this year we're envisaging a 10% increase. And with 250 exhibitors taking part this year, we're also looking forward to a 25% exhibitor increase on 2016 – which shows that the industry is really expanding. Having made the venue move to Greater Noida in 2016, which was a great success, we're building on that with the 2018 edition, in making the show even bigger and better than before.
MH: What are the core themes at this year's event and what can visitors and participants look forward to?
LM: We will see the continued evolution of digital printing – both standalone and hybrid systems. The key themes in terms of flexo press development will be waste reduction, faster changeovers and automation. Pressure-sensitive label technology continues to be the core of the show, with growth rates of up to 8% year-on-year, but we also expect to see diversification into shrink sleeves, flexible packaging and smart label technology.
MH: Is there anything that you personally are especially looking forward to at the upcoming Labelexpo India 2018 event?
LM: We are holding a series of industry forums over the next few months, aimed exclusively at offset printers who are thinking about diversifying their businesses into label and package printing. This will give them a unique foretaste of what to expect at Labelexpo India 2018. These will be held in three countries – India, Bangladesh and Sri Lanka. (Full details are available at https://www.labelexpo-india.com/labelexpo-india-host-industry-forums-acr....) Places are limited so we would urge early registration to avoid disappointment.
MH: Looking back at the 2016 show, what were the most important developments in terms of technology and production workflow to affect the label industry? What's changed since then and what do you expect in 2018? What trends or developments will be most relevant at this year's show?
LM: The 2016 show featured a range of 'entry-level' flexo presses and more advanced presses, as well as stand-alone digital equipment. At this show we expect to see more combination presses, including inkjet-flexo hybrid machines. The last two years have seen a demand for a reduction in changeover times, for greater versatility in terms of types of materials handled, and a renewed focus on factory integration.
MH: Which label printing technology do you foresee making entry into the Indian label industry over the next five years? How do you perceive the development of hybrid label printing technologies in India?
LM: We expect to see the continued replacement of letterpress with UV flexo, with digital (UV inkjet and electrophotography), and with combination inkjet-flexo machines. We see a growing interest among the top tier of Indian converters in hybrid presses, but most sales to date have been either digital or flexo rather than combination presses. It will be interesting to see if Labelexpo India 2018 sees a change in this situation. At our other Labelexpo shows we are also seeing an increasing interest in short run flexible packaging using wider inline presses with hot air waterbase and solvent print and lamination stations. This is a trend which we expect to develop in South Asia over the next few years.
MH: What are the biggest challenges Indian label converters will face in the next five years?
LM: The explosion in consumer demand for products and packaging inevitably means more pressure on the industry to innovate and keep up with consumer trends. This will require continual investment in state-of-the-art value-added equipment and materials. Another challenge for Indian label converters is profitability. Currently there are too many converters selling commodity products at low margins and trying only to undercut their rivals rather than selling value-added labels and services. Sustainability also presents challenges: the need for liner waste recovery and recycling, for example.
MH: Since labels in a packaging are no longer just limited to performing the basic functions and is expanding to become more integrated and intelligent, how successful are the Indian label companies have been in this direction?
LM: We are seeing rapidly increasing demand in the Indian market for smart and intelligent label solutions, and India converters have been quick to seize these opportunities. See for example the Share a Coke campaign which has now moved to India. There are opportunities in personalization and mass customization using digital or hybrid presses, and these will also use either unique QR codes or integrated NFC/RFID chips for higher end consumer products. With India's strong IT base, converters will increasingly offer services such as Augmented Reality to brand owners. There are also huge opportunities in the supply chain for smart label solutions – for example product track and trace in the pharma industry, temperature indicators in the chill chain and security labels for anti-counterfeit applications. All of these products will be on show at Labelexpo India.
MH: What do you consider the key sustainability challenges for packaging and packaged goods? What are the key concerns specifically in the labeling segment?
LM: There will be significant ongoing challenges for waste disposal, in particular recovery and recycling of liner waste and the ability to remove and recover filmic labels from single-trip plastic containers. These are trends that aren't going to disappear, so the industry needs to respond. This is where Labelexpo India can help, as we bring the whole industry supply chain together at our shows. All the materials manufacturers are showing sustainable label stocks – for example using thinner films or adhesives which allow labels to be cleanly removed in recycling systems. Other sustainability challenges will be continued government pressure on VOC emissions– a particular challenge for converters using gravure and solvent-based flexo. In addition, Indian converters exporting to European markets will need to take into account increasingly strict standards for UV ink component migration. At Labelexpo India 2018 they should be talking to ink suppliers about new Low Migration inks and coatings.
MH: How will Labelexpo India be utilizing social media before and during the 2018 event show? Where can people connect with all your channels?
LM: People can connect with us via Twitter at @Labelexpo, LinkedIn and Instagram. We also have dedicated Labelexpo India pages on Facebook. You can also find Labelexpo on YouTube. Full details about Labelexpo India are on the event page www.labelexpo-india.com/ where you can also register and find out about our industry forums.

By Mahan Hazarika