05 July 2018
Registration now open for Labelexpo India 2018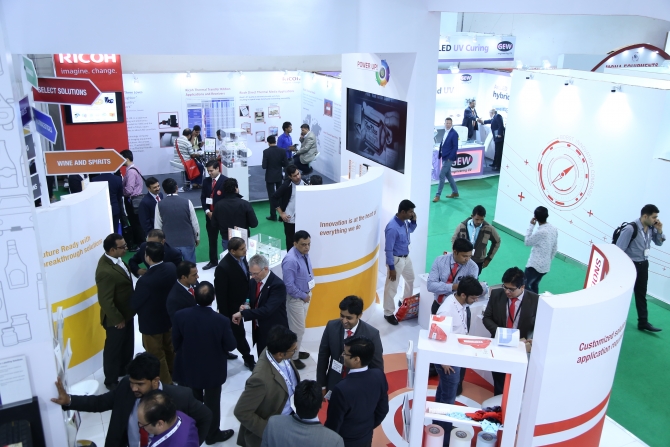 Click on image to download high resolution version
Registration for the 6th edition of Labelexpo India, the largest label and package printing event in South Asia, is now open. The show is set to take place once again at state-of-the-art venue India Expo Centre & Mart in Greater Noida (Delhi NCR), from 22-25 November.
This biennial event, aimed at printers, designers, brand owners and industry suppliers, brings the whole supply chain together under one roof. It is the region's key platform for businesses to showcase their latest machinery, innovations and products. With 250 exhibitors taking part in 2018 – a 25 per cent increase on 2016 – and many press developments being unveiled from leading manufacturers, plus smart technology, finishing units and materials, this year's show also offers an unparalleled networking opportunity for visitors.  
Jade Grace, Labelexpo India event director, said:
"Since the success of our biggest Labelexpo India in 2016, we have seen the industry come on in leaps and bounds in the region. Printing is the biggest growth market overall, as the appetite for labels and package printing continues undiminished and innovations in technology develop apace. The scope is huge, and we're seeking to build on that in our 2018 show, as we return to India Expo Centre & Mart in Greater Noida.
"By seeing the latest technology innovations and solutions first-hand, visitors will gain an insight into how the future will look, which will help them transform their businesses and remain competitive. There really is no substitute for having the whole sector under one roof and buyers and sellers connecting face to face."
Part of the hugely successful Labelexpo Global Series since 2007, Labelexpo India is again strongly supported and endorsed by the trade bodies including the Label Manufacturers Association of India (LMAI), Delhi Printers Association and the All India Federation of Master Printers, and will also play host to the prestigious LMAI Avery Dennison Label Awards on 22 November, which celebrate industry excellence.
Kuldip Goel, president of LMAI, said:
"We are delighted to continue our longstanding and successful partnership with Labelexpo India for its 2018 edition of the show. Over the last few years we have seen a major trend with the move from offset printing to label printing and converting. This transformation has been the result of a growing label market in South Asia, and Labelexpo India has played a big role by showcasing the latest technologies from the leading manufacturers around the world.
"We recommend and encourage printing companies at all levels of the market to visit the show and expand their vision for the future growth."
A series of Labelexpo one-day forums will once again be taking place over the summer in seven key regions of India, Sri Lanka and Bangladesh, as a means of allowing companies to get a preview of what's in store at Labelexpo India 2018.
Grace explained: "India has an incredibly fast-moving market; we are for example now seeing this major trend for commercial offset companies looking to move into label printing, so the potential for industry growth is huge.  The Labelexpo forums we are running across seven cities and three countries are an excellent means of showing the sector what's possible. We look forward to welcoming visitors from across India and South Asia to these forums, as well as to Labelexpo India 2018."
Entry is free to the show but early registration is strongly advised to avoid disappointment. To register, or to find out more, visit www.labelexpo-india.com.
In 2016, Labelexpo India welcomed 8,029 visitors, and with a show floor size of 5,899 sqm, was its largest to date. 200 exhibitors took part.
 
Feedback from 2016:
"We had a good experience at Labelexpo India 2016, the show had more footfall than the last show in 2014. We had around 80 new business leads during the four days. We were also able to receive the orders for 60mts of material at Labelexpo." Atul Garg
"Henkel India is pleased with the overwhelming response it received at Labelexpo India 2016. The expo provided us a good platform to showcase our expertise in the area of pressure sensitive adhesive business, which helped us to strengthen the existing relationship with our clients and also facilitated new business opportunities. At the event, we showcased our diverse portfolio of solutions in the pressure sensitive adhesive business to over 250 visitors, which resulted in many leads." Vijay Ramachandran, Henkel IMEA
"The best part of Labelexpo India is that it brings all the manufacturers and end users under one roof. It's not important that we always get the return on investments to the show. But what is important is that the information and knowledge which is shared, are stupendous." Tilkesh Jathan, Loparex India Pvt. Ltd
"Labelexpo India is a very professionally organized show. Since we participated for the first time, it was very good experience…We had some serious buyers too." Rekha Sharma, Manroland India
"Labelexpo India is the perfect opportunity for label industry stakeholders to meet each other face-to-face and to catch up with the new advances in the industry. We had a very busy and successful four days on the UPM Raflatac stand, meeting our clients, allied trade partners, and making new, interesting contacts. We are optimistic about the growth of the Indian label market and look forward to further success at the next Labelexpo." UPM Raflatac
To keep up to date on the latest developments, follow Labelexpo on Twitter at @Labelexpo or visit www.labelexpo.com.