10 November 2022
More than 40 new exhibitors at Labelexpo India 2022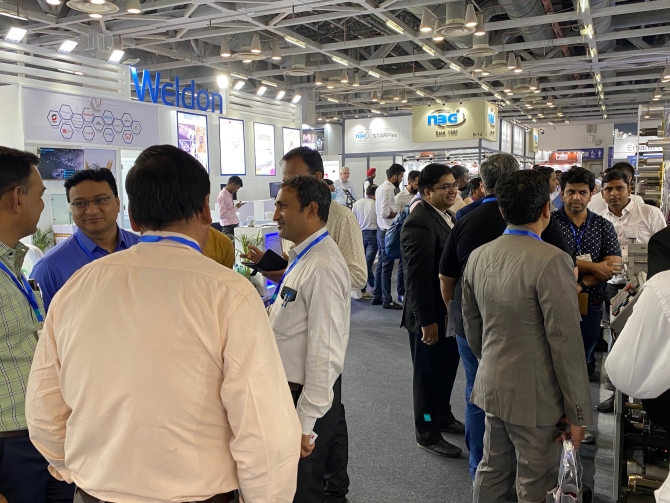 Click on image to download high resolution version
Labelexpo India 2022 show floor is bustling with new technology and new faces both on the visitor and exhibitor side. The show is packed with more than 250 exhibitors out of which 40 are first-time exhibitors.
Here is what few of the first-time exhibitors are showcasing at Labelexpo India 2022. 
Self-adhesive labelstock and silicone liner manufacturer MLJ Industries launches and showcases a host of release liners and labelstock materials at booth B9 in Hall 1.    
The company promotes release liners such as glassine, paper, CCK, SCK, recycled PE liner yellow and white, MG kraft and PE. Among labelstocks, MLJ shows semi gloss, PP white, PP silver, PP clear, DT, silver MET paper and removable silver PP.        
The manufacturer launches clear on clear, battery, tire, pharma, specialty labels for corrugation, wash off, PET clear, PET white label, PE clear, PE white and repositionable labels and PET liner. 
Stamping foil provider Shaharaji Associates showcases ITW ShineMark range of cold foils under the name of its new firm Sharjun India.      
Sharjun India is an affiliation between Shaharaji Associates and Arjuna Global Impex.     
The supplier promotes ITW cold foils at its stand during the show. Representatives from ITW Korea are expected to be present at the Shaharaji stand for direct customer interaction.      
'I personally visited Labelexpo India in 2018 and it looked promising to me. I always had a plan to participate in the show in the future. We received positive feedback from exhibitors. Additionally, known printers and converters visited the show,' said Rajesh Bhandari, senior partner at the company.  
Bhatia Graphica exhibits at booth J3 in Hall 5.     
Bhatia Graphica, pre-press service providers based in Mumbai, India since 1997, offers pre-press and printing plates for the flexo, dry offset and letter-press industries using HD CTP technology. These plates are currently being used for printing aluminum cans, aluminum collapsible tubes, lamitubes, seamless tubes, plastic cups, liquor caps, labels and embossing.    
The company showcases flexo printed samples, letterpress printed samples and dry offset printed samples and plates at the booth. 
Gujarat-based flexo press manufacturer AKO Flexo participates for the first time at Labelexpo India 2022. The company displays its 330mm 8-color flexo printing machine with add-on features. 
Starting in 2014, AKO Flexo is a flexo press and label finishing equipment manufacturer. The company is jointly owned by three partners in India, China and Canada who have more than 40 years of industry expertise each. The manufacturer has over 80 installations in several countries, including the US, Italy, the Middle East, Africa, Canada and India. 
The company's R&D and design center are based in Canada, with a manufacturing unit in China and India. AKO imports 80 percent of its raw material from Japan and Europe.