10 November 2022
Monotech Systems marks first sale at Labelexpo India 2022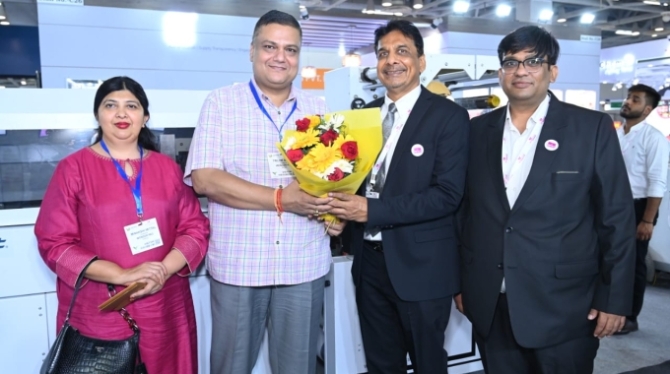 Click on image to download high resolution version
Monotech Systems held a lamp lighting ceremony at its stand today at Labelexpo India 2022 to mark the first day of the show. The manufacturer also sold ColorAqua Hybrid press within four hours of the show opening.
Monotech SystemsJetSCI Global sold ColorAqua Hybrid to Wonderpac, one of the prominent manufacturers and exporters of an exclusive range of labels and holograms.  
The sale happened within the first four hours of the opening of Labelexpo India 2022. 
JetSCI Global ColorAqua hybrid is a mid-level label printing production press that enables label printers to adopt digital workflow in label printing at a reasonable cost. The technology includes heavily loaded features of high definition 1600 dpi full-color CMYK water-based inkjet printing based on Memjet Duraflex Inkjet printhead and is equipped with pre-inkjet flexo for water-based primers/coating/white and post-inkjet flexo with waterbased/UV curable primers and movable cold foil station. 
This machine is suitable for pharma jobs as well as for a wide range of flexibles including food-grade applications. With a print quality of 1600 dpi, customers can print very sharp micro text and high-quality images. 
During the launch of the machine at Labelexpo India 2022, Trilok Mittal and Minakshi Mittal of Wonderpac saw the machine and commented that they 'got the digital production press that they are looking for,' and booked it on the spot after a detailed discussion at the show. 
The manufacturer is offering live demonstrations of a range of print and finishing technologies during Labelexpo India 2022 taking place from November 10-13 at India Expo Centre, Greater Noida, Delhi NCR.  
The company is showcasing Colornovo Hybrid/ KolorSmart+ 6-color and 7-color UV inkjet label production presses during the show. Both presses are equipped with several inline finishing and converting options for seamless digital label production.     
Also on live demonstration are the new version of the 4-color ColorAqua, an entry-level digital label production system equipped with inline flexo finishing options.    
Monotech launches and offers live demonstrations of dSpark UV inkjet label digital varnish and cold foiling press and TraceSci, a SaaS platform for track and trace developed by Monotech Systems.  
Ricoh sheetfed digital label production press are also on live demonstrations at the show.   
Live demonstrations of other finishing and converting technologies for the label and packaging industry along with the display of a wide range of applications through the sample gallery are also available.   
A global brand in the manufacturing of inkjet products for the printing and packaging industry, Jetsci Global was introduced in 2012 by Monotech Systems. It is backed with strong research and development and a manufacturing facility in Gurugram, India and has 500+ installations across the globe.     
Jetsci's Center of Excellence based in Gurugram offers the facility to do inks, customers' substrate calibration and qualification, new product development, real-time consistency and reliability testing, sampling, proofing, and personalized demonstrations.