19 September 2018
Labelstock range from Sun Papers & Labels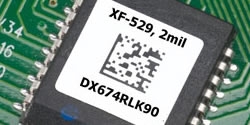 Click on image to download high resolution version
Sun Papers & Labels will be showcasing their latest labelstock products at Labelexpo India 2018.
They have joined together with DIC for distribution of flexographic inks, special coatings, varnish, primers and so on. They have launched a complete range of specialty label stock material for harsh environments and special conditions. Their labelstock range can sustain temperatures from -200°c to +600°c. They also have ESD safe products especially for PCB's for electronics industry. 
They also have tags for high temperature barcodes with an application temperature upto +300°c and with resistance upto +600°c; antiflame labels for sensitive products which may catch fire, for e.g. batteries, car wirings and so on. These products are mainly used by the electronics and automotive industries, aerospace wiring, the steel and tyre industries, and many more. 
Alongside this, their wider product range also includes glassine paper, C1S semi gloss paper, thermal paper, inkjet paper, woodfree uncoated paper, rough gloss paper, embossed papers, sublimation papers and many more specialty paper products.