30 August 2018
Labelexpo India 2018 forum in Colombo a grand success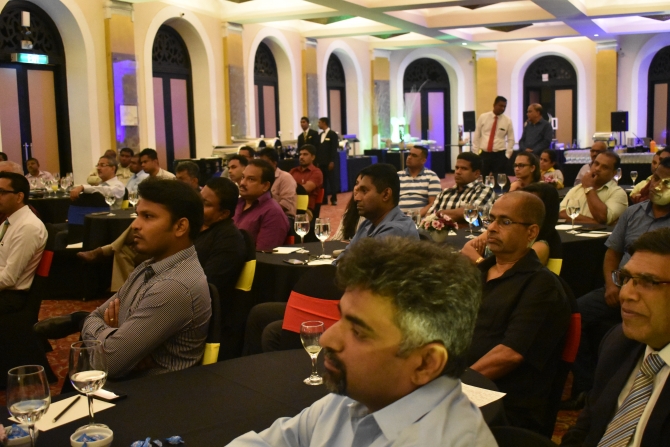 Click on image to download high resolution version
The ball is now rolling for the big event of the year – Labelexpo India 2018 –following a successful forum in Colombo, on August 24, 2018. Organized by Labelexpo India in partnership with Sri Lanka Association of Printers, the event – the first of its kind outside India and attended by some 75 dignitaries - attracted representatives from both the offset printer and label converter community.
Giving the inaugural speech at the event, Pradeep Saroha, event manager for Labelexpo India, gave a brief overview of the upcoming event while also touching on the latest global label trends. Saroha explained: "With commercial print in decline, we must start exploring opportunities in the labels and package printing market." He added that labels and package printing is the highest growing sector in print with market size estimated at around US$ 115 billion by the end of 2018.
In his presentation, Saroha shared some interesting facts about the global packaging market and explained how commercial printers are switching to label printing. He said that in North America, the flexible packaging market is worth US$ 23.5 billion, which accounts for 23% of the global market. The trend observed in North America is that commercial printers are making the switch to labels. In Latin America, Mexico has seen about 300 to 500 new label companies coming up in the last decade.
Saroha said that South East Asia is one of the fastest growing regions for label and package printing with a very young population (45% are millennials) and this is driving growth in the labels industry (increased consumption of FMCG). As for South Asia, Saroha said that it has a huge potential for growth, especially if one considers how the flexible packaging market in India is growing at around 15-17% per annum.
Mahan Hazarika, editor of The Packman, presented an interesting case study on Delhi-based Kwality Offset Printers. Kwality Offset specializes in the manufacture of wet glue and self-adhesive labels. When it was established in 1972, the company produced cartons and cups for the ice cream industry using a letterpress. A decade later it installed an offset press and entered the label printing business, producing beer labels. "Since then the company has added flexo and digital technologies to its existing offset unit. And all the three technologies are currently being used at its plant to produce a wide range of labels to cater to various customer needs," Hazarika said.
Another speaker, Kishore Kumar PS of NBG Printographic Machinery Company, like Saroha, stressed that labels can be the next destination of a commercial printer to diversify. Kumar said: "The most widely used labels are pressure sensitive grades, mostly webfed, which accounted for 64.6% of the market value in 2014, and 51.4% of the print volume."
Rajesh Gandhi of Fujifilm Sericol gave a presentation on pressure sensitive labels (PSL) and why one should switch from paper to pressure sensitive labels. Gandhi said: "Back in the 1970s, only about 5% of all global labels were pressure sensitive labels while they represent approximately 65% of the market share today. However, if you look at the beverage label market from a global perspective – less than 15% of all labels are PSL, the majority still being glue applied labels, mostly made from paper. Hence, there is a lot of room for growth in this segment" Gandhi also touched upon operational efficiency of pressure-sensitive labels in his presentation.
Another speaker, Manish Kapoor of Nilpeter explained how a narrow web press can make a converter feel like a magician. Kapoor said: "Just by adding a few additional features on your narrow web press, you can print both wine labels and shrink labels on the same press."
Attendee feedback on a successful event

A number of attendees expressed their desire to participate in Labelexpo India 2018, which takes place in November. One printer quipped: "November is a very crucial time for us as this is the time when our sales volume reaches its peak. But that is not going to stop us and we plan to attend the event in November."
Saroha summed up the day: "We are very happy with the success of our very first forum outside India, which provided an extremely valuable insight into this year's Labelexpo India. Attendee demand exceeded expectations and we have experienced a surge in enquiries from offset printers about attending Labelexpo India since the event. The themes explored at the forum will all be in evidence at this year's Labelexpo India, which is set to be our biggest yet, with more exhibitors than ever before.

"We look forward to meeting members of the offset printer community at our other forums taking place across the region, including Bangladesh, in the run-up to the show, and we would encourage interested delegates to register as soon as possible to avoid disappointment."
Labelexpo India 2018 will be held at the India Expo Centre in Greater Noida, Delhi from November 22-25.
For more details visit https://www.labelexpo-india.com/labelexpo-india-forums for the full forum schedule.
By Pranay Mathur