28 August 2018
Imada to showcase pocket UV stroboscope with adjustable flash duration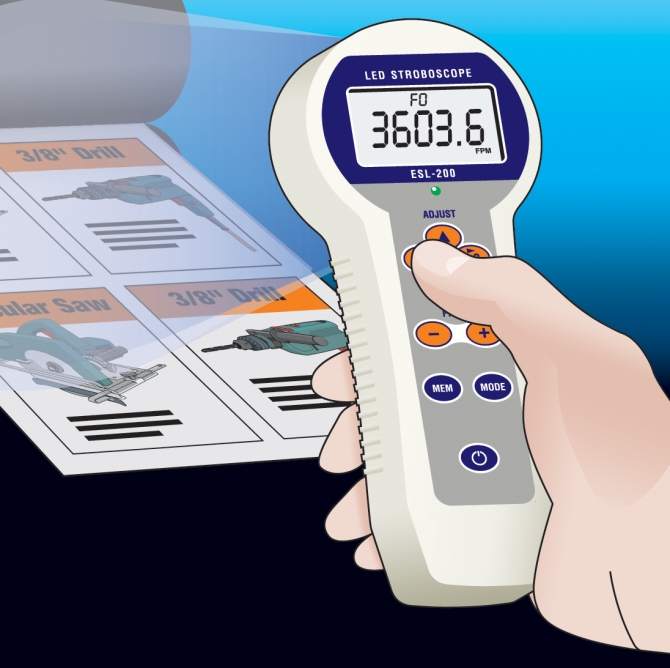 Click on image to download high resolution version
Imada is to showcase its pocket UV stroboscope with adjustable flash duration.
ESL-200-UV is a battery operated, handheld, UV LED stroboscope designed to inspect security print elements using UV-visible ink, like labels, security tags, watermarks and more. The ESL-200UV features an array of six 390nm wavelength UV LEDs, an 18 flash rate memory, rechargeable battery and so compact it fits in a pocket. Made in the USA.
Features include:
Solid-state Power UV LEDs
Auto wide measuring range – Up to 150,000 FPM/RPM
Adjustable flash duration yields sharper images
Store 9 preset flash rates in memory for both FPM and Hz for quick retests
Tripod mountable
Push button operation with x2 and ÷2 buttons
Extended battery life: 5 hours continuous use 6,000 FPM/RPM
Power save mode: 10 hours continuous use 6,000 FPM/RPM
Highly stable drift free operation
Rugged aluminum housing, compact size, ergonomic design
Easy-to-read 5 digit 0.47" high LCD
Optional external trigger
ESL-200UV kit includes stroboscope, AC adapter/charger, calibration cert traceable to NIST and carrying case
Visit Imada on stand 3806 at Labelexpo India 2018 to see it in action.