21 September 2018
Dhaka forum strikes the right chord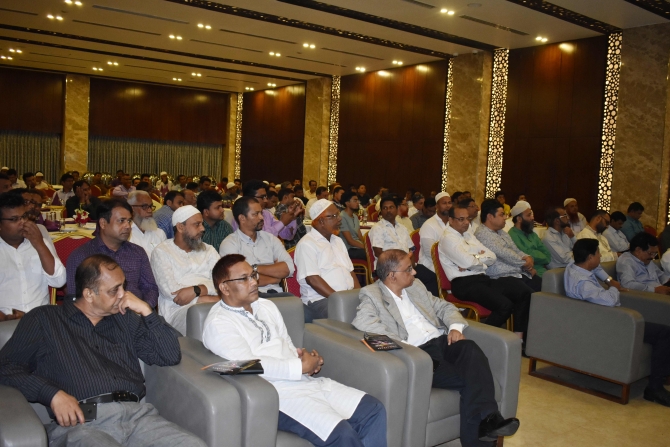 Click on image to download high resolution version
Following a successful first Labelexpo India 2018 forum in Colombo, expectations were riding high for the Dhaka event and it clearly didn't disappoint. Held on September 8, this second forum laid out the red carpet to offset printers who were looking to diversify their businesses to label and package printing.
The first event of its kind in Bangladesh, the forum was organized by Labelexpo India in association with Bangladesh Mudran Shilpa Samity, and attended by some 200 dignitaries, including representatives from Avery Dennison, Flint Group and Nilpeter as well as members from the printing and packaging fraternity from Bangladesh.
Pradeep Saroha, Labelexpo India event manager, gave the inaugural speech of the evening and also informed the audience what is in store at the upcoming label show in Greater Noida from 22 to 25 November. "Labelexpo India is the platform to view more products, more launches and more live demonstrations than any other event in the industry," he said.
Manish Kapoor of Nilpeter, meanwhile, enlightened the gathering how a narrow combi press is different from an offset press. "Narrow web combination press is more like making your own salad – you start with an empty bowl, and keep putting in whatever you want according to your requirement and taste preferences," said Kapoor. "In contrast, offset presses are more like buying boxes from a shop which come with their own configuration." Since a narrow web combi press is built from scratch as per customer requirements, Kapoor cautioned it is important for anyone who wants to enter the field to know about its working. "You have to be sure about what you need or expect to achieve with the press." Nilpeter produces 120-140 presses each year, all custom-made to fit the needs of the individual customer.
Dr. Sreenivas Goud, director – sales at Flint Group India, gave a presentation on how UV flexo ink is going to be the future. "UV Flexo is the fastest growing technology in narrow web printing segment as it offers reliable and consistent quality. With rapid advancement in technology of flexo presses, plates, doctor blade, and substrates, to name a few, narrow web printers are able to achieve quality similar to offset and excellent combination printing to produce world class labels and other packaging products," said Goud.
Goud also shared details about one of Flint's key developments in UV flexo technology – Flexocure Force. "With the help of Flexocure Force brand of UV flexo inks from Flint Group, one can achieve superb print performance on variety of substrates due to its high color strength and rheology profile suited to print longer run jobs. With excellent cure properties of inks, printers are able to print faster and improve their productivity," explained Goud. Flint Group also offers a variety of products for screen, shrink sleeves and other flexible packaging applications including low-migration and award winning LED cure inks in UV flexo range, all of which will be on display at Labelexpo India 2018.
G Sridhara, business manager – international and specialty business, South Asia, Avery Dennison India, said in his presentation that in Asia Pacific, the pressure sensitive label (PSL) growth is fastest in India at 8% CAGR with strong growth across most FMCG segments, and that many brands are shifting from glue applied labels to improve shelf appeal and optimize application performance.
Sridhara said, "[This] forum in Dhaka provided a platform for sharing insights about the potential of the label industry and upcoming trends with industry partners and flexo and offset fraternity. It was a very good gathering of 200 plus printers who were keen to know about the developments and our initiatives to address their issues. Thanks to the management of Bangladesh Mudran Shilpa Samity and their members who made this road show a big success."
Question and answer session

The event also fatured a question and answer session, which gave the audience a chance to interact with industry veterans. One of the questions was directed at the representative from Flint Group, asking  whether the company has any plans for setting up an ink plant in Bangladesh. In answer, Goud said, "What we see currently is that the market in Bangladesh is small but it is growing fast – so in future we might definitely think about setting up an ink plant here."
The Bangladeshi perspective
Hasina Newaaz of Bangladesh, vice chairman of Bangladesh Mudran Shilpa Samity, said, "Printing is a huge sector but unfortunately Bangladesh has neither been able to contribute nor exploit this sector much. Labelexpo India 2018 is a huge opportunity for the printers of the country to break the mould and take the industry ahead. When an event like Labelexpo is happening next door, we should visit and gain the maximum benefits out of it."
By Mahan Hazarika.
Visit our Labelexpo India 2018 Forums web page for more details about the upcoming events.